GENERAL

Delivered new in August 2002, this outstanding Citation CJ2 had a full interior refurbishment in 2015 and presents as a new aircraft inside and out. Fully enrolled on Pro Parts and Williams TAP ELITE the aircraft has been meticulously maintained. Features include ADSB, TCAS I, RVSM, Dual Garmin GNS530, L3 CVR, plus a rear belted flushing LAV, long range Oxygen, 110VAC power outlets, Monorail Sun Visors and forward RHS refreshment centre and LHS storage locker. Pre-Cooler AD complied with.

AVIONICS / OPTIONS

•Rockwell Collins Pro Line 21 EFIS
•L3 Communications CVR
•Comm Dual Garmin GNS530
•Nav Dual Garmin GNS530
• FMS Universal UNS 1L
•HF KHF 950
•ADF Honeywell KR 87
•ALT Collins Pro Line 21
•FDS Collins Pro Line 21
•Air Data Computer Collins ADC 3000
•Autopilot Collins
•FD Collins
•DME Honeywell KN 63
•Transponders Dual Garmin
•Traffic Avoidance TCAS I
•CVR L3 Comm
•GPS 3
•MFD Collins Pro Line 21
•Marker Beacon YES
•ELT ARTEX ELT
•Weather Radar Collins RTA 800 CLR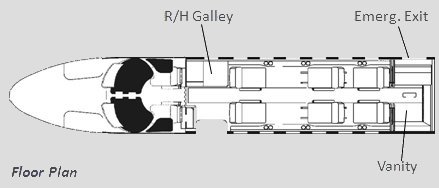 AIRFRAME / ENGINES / APU

Total Airframe Time 3912.3 hrs Since New, 3610 Landings
Williams FJ44-2C engines:
•Left Engine: 3865.6 hrs Since New
•Right Engine: 3912.3 hrs Since New
•Fully enrolled on Pro parts and Williams TAP ELITE
(Note: Hours as of: 10-March-2017).

INTERIOR

This aircraft is configured for seven passengers. The cabin features a forward four place club followed by a two place group. The entrance includes a full refreshment centre. A belted, flushing, fully enclosed, lavatory is located in the aft of the cabin. The interior was fully refurbished in 2015. All seats are completed in Cream Leather with a Rosewood veneer and 24k gold metal trim. The cabin includes 110VAC power outlets, indirect cabin lighting and a CD stereo system..


EXTERIOR

All over Matterhorn White with Silver Grey and Blue accent striping.